Safe & Painless Veterinary Diagnostic Technology: Pet Ultrasound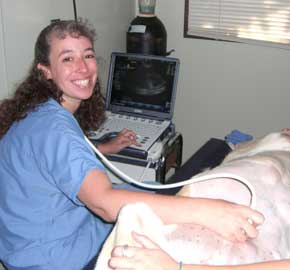 Advanced technology offers veterinarians the ability to diagnose more accurately and begin treatment more quickly. Community Animal Hospital offers patients and their owners the advantages of ultrasound diagnostic and surgical technology.
All pets can develop illnesses or injuries that are puzzling, and viewing internal organs safely and painlessly is a critical piece to an accurate diagnosis. Diagnostic sonography, or ultrasound, is an imaging technique that is widely used to examine internal organs for illness or injury. Diagnostic ultrasound is used in conjunction with a thorough exam and other diagnostic tools to aid our veterinarians in diagnosis of disease or injury.
How Does Veterinary Ultrasound Work?
Sonograms are performed using a small, hand-held probe called a transducer. The transducer is placed on the patient, usually aided by a topical gel, and moved across the surface of the skin. A 'live' view of the patient's insides is then visible on a screen. The transducer may be moved around for viewing various angles and snapshots of specific views can be produced. Observing the functioning of the heart is even possible with this technology. This is quite different from an X-ray, where only a still photo is produced.
Ultrasound produces no radiation as in X-ray technology. This technique may also be used in guiding the veterinarian when performing delicate procedures such as biopsies or fluid drainage. Ultrasound technology is virtually painless for the patient, too, a true advantage when dealing with a frightened, traumatized, or uncomfortable animal.
At Community Animal Hospital, our veterinarians are experienced in the use of this technology. In addition, we offer ultrasound as a drop-off service: simply bring your pet to check-in and we will contact you when we have completed the procedure.
Most of the time, no sedation or anesthesia is needed for this procedure. A small area of fur will be clipped. Some animals— those in pain or especially fearful pets, for example, may require sedation to safely perform the procedure. Ultrasound-guided biopsies of internal organs always require general anesthesia. Your veterinarian will discuss this with you.
Contact Community Animal Hospital for more information or to schedule your pet's next appointment.