Pet Microchips for Safety at Community Animal Hospital in Morris County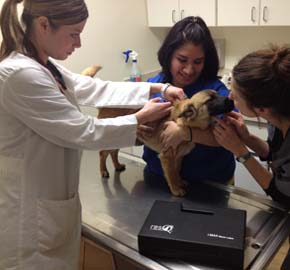 Community Animal Hospital offers RFID (Radio Frequency Identification) microchip tagging for your pet, providing you with one way to keep your pet safe and secure.
How It Works
A tiny Microchip is implanted into your pet. The implant is used as a passive RFID to identify lost pets. This RFID chip can also be used to establish the identity of the owner of an animal during an ownership dispute.
Microchips help lower their costs of feeding, housing, and medical care for lost pets taken in by shelters. This technology helps find owners sooner since animal control officers also can also use the technology to scan an animal's chip and return pets to their owners quicker.
Microchips are used for kennels, breeders, rescue groups, clinics, farms, associations, and pet stores. Some countries even use RFID tags to manage vaccination records.
resQ Talks About Their Microchip
resQ – means peace of mind – a resQ – microchip is about the size of a grain of rice and is implanted into your pet in a single simple injection, just like a vaccine. The microchip has a code that is unique to your pet, the way your Social Security number is unique to you. When a pet is found and scanned, the unique code can be traced back to you through your database registration at www.PetLink.net, allowing you and your pet to be happily reunited.
The resQ pet identification system utilizes the technology recommended by most major pet welfare and veterinary organizations in the United States.
Why Microchip Your Pet?
Did you know...
In one study, less than 1/2 of lost dogs and 1/5 of lost cats had any identification (tags, microchip) when they went missing?
In a recent study of 53 U.S. animal shelters, only 1.8% of stray cats and 21.9% of stray dogs were able to be reunited with their owners?
In the same study, 38.5% of stray cats with registered microchips were reunited (over 20 times more) and 52.2% of stray dogs with registered microchips were reunited (over 2.5 times more)?
Come to Community Animal Hospital for your resQ microchip and find the peace of mind that microchip technology can give. Schedule an appointment today by calling 973-267-4220. Get your pet a microchip and have peace of mind.
For more information about using the resQ microchip, as well as other helpful topics for pet owners, visit the Pet Parent website.