Nutritional Counseling for Morris County Pets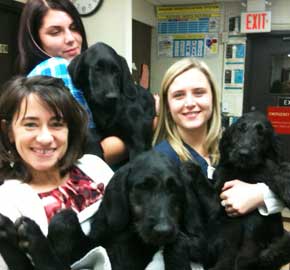 The professionals at Community Animal Hospital offer nutritional counseling to pet owners during regular wellness exams and anytime the need arises. Assisting in the development of an appropriate feeding plan may include special diets, appropriate treats, and an exercise plan for your animal companion. Providing proper nutrition for pets enhances quality of life and longevity by preventing obesity or other diet-related diseases.
Every Pet Is Unique
Pets' nutritional needs vary depending on species, age, breed, and size, as well as a variety of lifestyle factors. We assist you in finding a nutritional system that works for you and your family, addressing the frequency, timing, location, and method of feeding, as well as the use of treats.
Your Community Animal Hospital veterinarian evaluates your pet at the regular wellness visit for concerns about obesity and its prevention. Obesity has a major influence on the health of our animal companions, including the development of problems such as heart disease, diabetes, and arthritis.
We will be pleased to make recommendations about appropriate products for your pet's specific needs, such as foods, treats, and dietary supplements. Additionally, we will help you create an exercise regime that will optimize your pet's ability to lose weight, enhance the development of strong muscles and bones, increase your participation in physical activities with your pet, and support the human-animal bond.
We do not recommend the current fad of feeding raw diets to cats and dogs since these diets are unhealthy and dangerous. Studies have shown that raw diets potentially expose both humans and animals to pathogens such as Salmonella, E.coli and Toxoplasma Gondii.
To learn more about raw diets for pets visit these sites:
Contact Community Animal Hospital for help in developing an effective nutritional plan for your pet.
To help us advise you about the importance of nutrition and how to feed your pets, the American Animal Hospital Association (AAHA) has developed these Nutritional Assessment Guidelines for Dogs and Cats.