Morris County's Most Distinctive Veterinary Services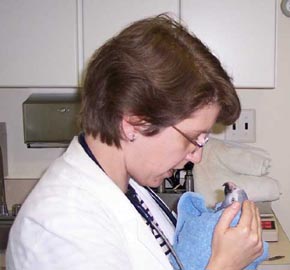 Community Animal Hospital has been providing extraordinary veterinary services to Morris County pets for more than a quarter of a century. Appropriately situated in New Jersey's 'Community of Caring,' Community Animal Hospital serves a wide variety of pets from the Morris Plains area including dogs, cats, birds, rabbits, guinea pigs, ferrets, rodents, snakes, lizards, and turtles.
Our extensive veterinary services are provided by highly trained professionals, including an on-site board-certified internal medicine specialist and a board-certified surgeon on call. Our staff is carefully chosen for their commitment to compassionate care and quality service for every pet and owner. At Community Animal Hospital, you can expect the ultimate in progressive pet care services with a distinctly personal touch.
In this section of our website, we invite you to learn about our array of veterinary services, beginning with our general veterinary surgery and orthopedic surgery programs.
Our internal medicine program for pets includes such specialties as cardiology, endocrinology, immune mediated diseases, urinary tract treatments, and pet cancer care. To meet your pet's diagnostic needs, we offer the advanced technology of ultrasound, and digital X-rays/radiology.
We also provide those hard-to-find specialty services for pets, such as international health certificates, nutritional counseling, pet training and behavioral counseling, exotic pet care, and microchip services.
At Community Animal Hospital, we set the standard in veterinary services by adhering to guidelines for veterinary care set by the American Animal Hospital Association (AAHA). Learn more about these animal care standards at the AAHA website.