Veterinary Dermatology: Comprehensive Skin Care for Pets in Morris County NJ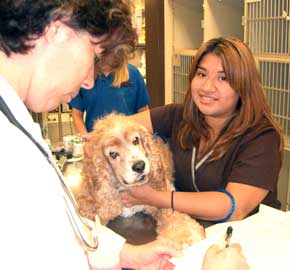 If your dog's coat becomes patchy or coarse, your bird is tearing out its feathers, or your rabbit is chewing and scratching its skin, your pet may have a skin problem. Community Animal Hospital treats all types of dermatology issues in pets, from dogs and cats to exotics and pocket pets. Please note: while we do see a fair amount of skin problems we do not have a dermatologist on staff. If this is what your pet requires you may want to see a specialist.
Pet Dermatology Depends on Accurate Diagnosis
It is important to appropriately treat the source of a skin problem, but is sometimes difficult to diagnose. The problem could be a variety of things such as the following:
Immune-mediated diseases
Mites, fleas, ticks, or other parasites
Bacterial infections
Hot spots
Allergies
Household irritants
Fungal infections
Endocrine abnormalities
Some pets demonstrate psychological chewing, a dermatological problem that can be associated with stress on the animal, such as a change in the home environment. Your pet's skin irritation also could be a symptom of another disease, such as hypothyroidism. Other possible sources of a pet's skin problem may be allergies caused by inhalants, such as fungi, molds, and dust mites; pollens from trees, plants, weeds, or grasses; the bite of fleas, ticks, or other insects; bacterial infections; or contact with irritants.
A skin scrape, blood work, and biopsies may all be performed as methods for accurately diagnosing your pet's problem.
Informational Resources
Visit the Pet Health Center at WebMD for the following resources regarding dog and cat skin problems:
The Healthy Pet website of AAHA offers additional information on this subject: