Expert Veterinary Dentistry for Pets in Morris County NJ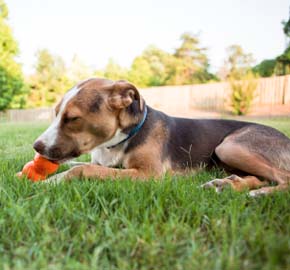 Dental care for pets is a necessary part of any responsible pet health care program. While it is true that dental disease is prevalent in companion animals, pet owners must realize that dental disease affects more than just the mouth. Infections and diseases of the mouth and gums travel quickly throughout the system, leading to heart, lung, and kidney diseases in pets.
Community Animal Hospital includes a dental exam as part of every pet's wellness visit. Your veterinarian will determine the need for any further steps at each visit, such as a thorough cleaning under general anesthesia, extracting a broken or diseased tooth, or other necessary surgical procedures.
The following information may be helpful to pet owners, including descriptions of the dental care process and products, as well as simple instructions following your pet's dental procedure. Any of these handouts may be downloaded and printed for home reference.
Visit our dental surgery page for more about our Community Animal Hospital protocols when your pet has a serious dental problem.
AAHA Dental Care Guidelines
The AAHA Dental Care Guidelines recommend regular oral examinations and dental cleanings under general anesthesia for all adult dogs and cats. AAHA recommends these procedures at least annually starting at 1 year of age for cats and small-breed dogs and at 2 years of age for large-breed dogs. The guidelines further recommend the following:
Pre-anesthetic exam—Whenever anesthesia is needed, special considerations are taken to help ensure the safety of your pet. Your veterinarian will thoroughly examine your pet to make sure he or she is healthy enough to undergo anesthesia. Depending on your pet's age and general physical condition, your veterinarian may also run blood, urine, electrocardiograph, and X-ray tests to check for any dangerous heart, kidney, or other conditions. Though there is some risk associated with any medical procedure, modern anesthesia is usually safe, even for older pets.
Anesthesia monitoring—During anesthesia, the monitoring and recording of your pet's vital signs (such as body temperature, heart rate, oxygen saturation, ECG, and respiration, as well as other factors) is important. This helps ensure the safety of your pet while undergoing anesthesia.
Dental radiographs—Radiographs (X-rays) of the teeth may be needed periodically in order to completely evaluate your pet's oral health. X-rays aid the veterinarian greatly in finding abnormalities that cannot be detected under examination alone. In some cases, X-rays can confirm the need for extraction of teeth that are loose or badly infected.
Scaling and Polishing—Veterinarians are advised to use similar instruments as human dentists to remove plaque and calculus from your pet's teeth. To smooth out any scratches in the tooth enamel, polishing with a special paste is also recommended.
Fluoride and sealants—The application of an anti-plaque substance, such as a fluoride treatment or a barrier sealant is also advised. This can help strengthen and desensitize teeth as well as decrease future plaque.
Pet Dental Home Care
The final step in pet dental care, brushing your pet's teeth, is easy and can be an enjoyable step in the grooming process for both pet and owner. The professionals at Community Animal Hospital are happy to instruct you in simple techniques for this important pet health maintenance program and provide products for home care.
For help in this area, you may enjoy the WebMD Pet Health website, which offers a video demonstration in How To Brush Your Dog's Teeth and the comprehensive article Ten Steps to Cat Dental Health.
For more information on getting started with your pet's home dental care regime, read the AAHA teeth brushing article.