Extraordinary Veterinary Care in Morris County NJ
Community Animal Hospital offers exceptional veterinary care for pets, from dogs and cats to birds, exotics, and pocket pets.
Your pet will be cared for in our state-of-the-art veterinary hospital by highly trained and experienced professionals, including board-certified veterinary specialists. We provide high-quality, comprehensive veterinary and surgical services for traditional domestic pets, as well as offering the most experienced exotic pet professionals in the region for the care of birds, amphibians, reptiles, and small animals.
Community Animal Hospital has set the standard for advanced veterinary care in New Jersey, providing expert advice and services since 1985 when Dr. Warren Davis assumed ownership. Our staff is dedicated to compassionate care for every patient and respect and understanding for every pet owner.
"My rabbit' Roscoe' has been seen by Community Animal Hospital for the past nine years. Whether it is a routine visit or emergency' the staff is always responsive and helpful. No matter how busy the office is' I never feel rushed and everyone is willing to take the time to answer questions and explain things' so I understand what Roscoe needs and what I need to do to keep him healthy or help him through any health issues. I am so grateful to have found you' and I know that it is because of the excellent care he has received from you that I have been able to have so many wonderful years with Roscoe. Thank you!" ~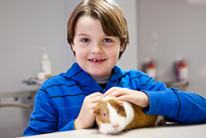 We have been providing extraordinary veterinary services to Morris County pets for more than a quarter of a century.
Learn more about some of our special clients.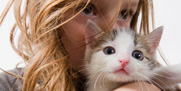 Share your favorite pet photos with us!
921 Route 53, Morris Plains, NJ 07950 • Directions • 973.267.4220