Digital X-Rays/Radiography: Advanced Veterinary Diagnostics in Morris County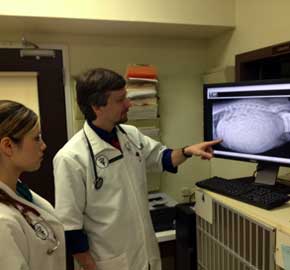 Advanced technology offers veterinarians the ability to diagnose more accurately and begin treatment more quickly.
What's the Big Deal?
Digital radiology is widely considered to be the greatest technological advancement in medical imaging over the last decade. Just like replacing film with digital technology in personal cameras, the use of radiographic films in X-ray imaging will likely become obsolete in the near future. Images are immediately acquired and can be enhanced, deleted, modified, and sent anywhere in the world to a network of veterinary specialists or insurance providers.
One exceptional benefit of digital radiology is that it is filmless. Your veterinarian is able to immediately view the image on a desktop or a personal computer and report to you after the examination is complete. Images can be seen simultaneously by veterinarians and specialists in various locations and pet owners can keep a copy of the images on a CD or flash drive for further consultation or to include in the pet health history.
Digital radiography is excellent for such veterinary needs as tracking structural progress in a broken bone or for a thorough dental evaluation.
What Is It?
Digital radiography is a form of X-ray imaging, where digital X-ray sensors are used instead of traditional photographic film. Significantly less radiation can be used to produce a digital image, important to the long-term health of any patient. Other advantages include time efficiency through bypassing chemical processing and the ability to digitally transfer and enhance images.
Digital radiography is essentially filmless X-ray – in place of X-ray film, a digital image is recorded as a digital file. This technology is more forgiving for over- and under-exposure, as well as the ability to apply special techniques that enhance overall display of the image.
Community Animal Hospital makes every effort to employ the most advanced technologies while offering manageable expense for service to the patient.
Contact Community Animal Hospital for more information about our advanced diagnostic technologies.