Avian Care for Pet Birds in Morris County NJ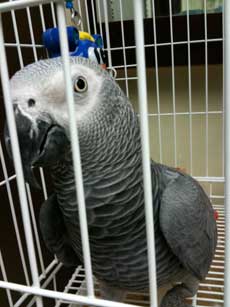 Intelligent and entertaining creatures, birds offer a wide variety of size, color, and capability for those seeking an avian pet. They require regular care and attention and may be sensitive to changes in the environment. Still, many apartment and urban dwellers enjoy them for their adaptability to a more confined space and the willingness of landlords to accept bird owners as tenants.
Birds may be beautiful, but they are not to be considered "low maintenance" pets. When choosing a bird for your companion, remember that their care may include these issues:
Feathers, food, and excrement dropping from their cages
Quite noisy and demanding of attention
Require a constant source of water and food
Cage needs daily cleaning of food waste and droppings
Sensitive to temperature changes
Some of the more social birds require daily attention and handling to be happy. All pet birds need a balanced diet, clean water, appropriate caging, proper sanitation, and regular veterinary check-ups. However, birds may not be appropriate for handling by young children and they generally do not like to be left alone for long periods of time.
Many birds have a long lifespan—some species can live up to a hundred years—and may require advanced planning on your part. Should anything happen to you and you are unable to care for them, you will need a back-up plan such as a relative or friend who is willing and able to take on your feathered companion for life.
Creating the Aviary
When adopting a pet bird, creating your aviary or habitat is very important. An appropriate cage for your specific type, size, and number of birds is essential. Often your family's housing arrangements will determine the size and type of avian pet you are able to keep.
Set up the cage with appropriate food and water in advance of bringing the bird home. Your cage should be big enough so the bird is able to comfortably walk around, climb, and fly. The cage you choose should be designed for easy removal of dishes and droppings, free from hazards such as cleaning fumes or cooking odors, and placed away from drafts at eye level, so your bird will feel more secure.
The professionals at Community Animal Hospital are uniquely skilled and trained to advise you about the right type of pet to choose. We are also familiar with the health requirements of your new bird, such as proper immunizations, grooming, parasite control, and nutrition. Contact our clinic to schedule your first wellness visit and learn more about your new feathered companion.
Avian Resources
For more information, read this AVMA brochure titled What You Should Know About Selecting a Bird.
Read this great article, Balancing Your Parrot's Lifestyle, by the experts at Veterinary Partner.
The Parrot Pages is a great website that provides information and a source for avian products, breeders, clubs, and organizations.