Pet Dental Surgery From Morris County Veterinarians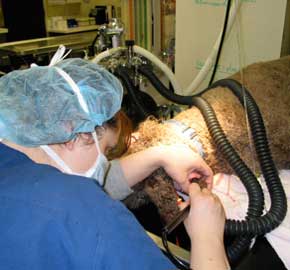 Oral hygiene is an important part of keeping your pet healthy. More than 70% of cats and dogs over 3 years old suffer from some form of periodontal disease and pocket pets are likely to develop dental concerns that impact their overall health.
Bacteria present in tartar and plaque can lead to bad breath in pets but, more importantly, has been linked to serious and life-threatening problems such as chronic heart and kidney diseases. As dental disease progresses, the attachments of the teeth to the underlying bone can weaken, and pets will often develop severe infections, resulting in pain and tooth loss.
Our goal at Community Animal Hospital is to prevent these advanced problems, but when dental complications arise, we are thoroughly equipped to address them. Dental surgery requires expertise and advanced training – our professional team is skilled at addressing periodontal disease, dental repairs, extractions, and other dental concerns for dogs, cats, and other small mammals.
When Dental Surgery Is Needed
During your pet's regular examination, we evaluate the teeth, gums, and tongue and make recommendations for any necessary care. Recommendations for pet home dental care can include tooth brushing, oral rinses, and special dental food or treats.
If we are concerned that basic preventive care will not be enough to prevent the development of periodontal disease, dental infections, pain, or tooth loss, we may recommend a full dental cleaning under general anesthesia. During this procedure, your pet's teeth will be scaled and polished above and below the gum line. Any painful teeth or infections will also be addressed.
The doctors at Community Animal Hospital also provide dental care for small mammals. One of the most common problems in rabbits and guinea pigs is overgrown teeth, which can lead to weight loss, inability to eat, and infections. We will evaluate for signs of dental malocclusion during your pet's routine examination and make recommendations for any necessary care.
Pet Dental Care Resources
The following information may be helpful to pet owners: descriptions of the dental care process and products, as well as simple instructions following your pet's dental procedure. Any of these handouts may be downloaded and printed for home reference:
Visit our pet dental care page for more about basic dental health care for pets.
Read the ASPCA's 10 Tips for Better Dental Health in Dogs.
Meet Will Pittman, DVM
Dr. Will Pittman has been a small animal practitioner since 1981. He has practiced at Community Animal Hospital since 1986. Dr. Pittman enjoys veterinary dentistry and soft tissue surgery. He serves on the board of Metropolitan New Jersey Veterinary Medical Association and is a member of the New Jersey Veterinary Medical Association.
Visit our general veterinary surgery page for more about Community Animal Hospital's quality surgical program.