Morris County NJ Emergency Vet Hospital for Sudden Illness or Injury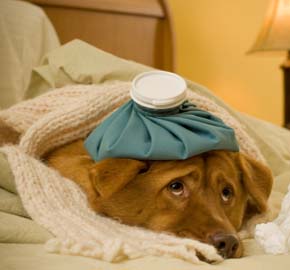 During office hours, Community Animal Hospital is well equipped and available to handle emergencies that may arise with your pet.
Unique among animal hospitals, we keep many unusual or perishable emergency drugs on hand for a wide variety of circumstances. Unlike other animal care facilities, we are able to treat animals on site for uncommon and acute emergencies, such as antifreeze intoxication.
In addition, we are well equipped to handle emergency surgery, diagnose sudden illnesses, and offer critical care and hospital services to small animal pets.
Visit our general veterinary surgery and internal medicine pages for more information about Community Animal Hospital's pet care services.
After-Hours Emergencies
Many pet emergencies happen after hospital hours – what to do?
Community Animal Hospital makes it easy for you!
Simply call our number: 973-267-4220
When you call us after hours, we offer the following services:
Advice and guidance in caring for a pet at home – This is when we determine your pet is not in an acute crisis and can wait until office hours with supportive care
Meet us at our hospital – In a situation where our veterinarian wishes to examine your pet in person and may be able to provide intermediate services at our hospital
Refer to emergency hospital – Our veterinarian believes you have an acute emergency and refers you to the local emergency veterinary hospital for immediate service
When you are a client of Community Animal Hospital, you receive the highest level of care available at any veterinary facility in the region. Contact us for more information.
Animal Emergency & Referral Associates
The local emergency veterinary hospital, Animal Emergency & Referral Associates (AERA), is located conveniently in Fairfield, New Jersey.
You do not need an appointment for your pet to be seen by the emergency service. Clients are usually seen in order of arrival, but life-threatening emergencies are dealt with immediately. Emergency service hours are as follows:
Monday through Thursday: 5:00 p.m. to 8:00 a.m.
Weekends: 8:00 a.m. Friday to 8:00 a.m. Monday
Major holidays: 24-hour services
Animal Emergency & Referral Associates (AERA)
1237 Bloomfield Avenue
Fairfield, NJ 07004
973-226-3282
973-788-0500
800-4-911-PET
Visit their website