Pet Care for Canine & Feline Immune Diseases in Morris Plains NJ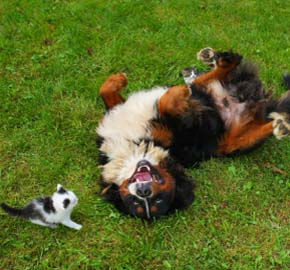 Immune-mediated diseases are those in which the immune system attacks your animal's body causing disease. These diseases are sometimes referred to as autoimmune diseases and include illnesses such as rheumatoid arthritis, autoimmune hemolytic anemia (AIHA), and immune mediated thrombocytopenia (ITP).
Community Animal Hospital offers highly trained and experienced veterinarians, including a board-certified specialist in internal medicine, to diagnose and treat these concerns in your pet.
How the Immune System Works
The immune system is a complex defense network of white blood cells, antibodies, and other substances used to fight off infections and reject foreign proteins. It can be compared to a police force patrolling the body, designed to recognize the animal's own cells from others in the body. This is why the body will reject skin grafts, blood transfusions, and organ transplants as foreign matter in the system. The immune system can fail, either by not doing its job or by doing it too well. Rejection of organ transplants is an example of the immune system working too well; on the other hand, when the animal's body is left vulnerable to attack by an opportunistic infection, the immune system is failing to do its job.
The experts do not really know why immune-mediated diseases occur in pets. Some veterinarians believe it may be genetic, while others say it may be environmental. Certain breeds are reported to have a higher incident of such illnesses, but the experts are still struggling to identify a true cause for these diseases.
Diseases of the Immune System in Pets
In cats, the most common cause of immune deficiency is infection with retroviruses, FIV, or FeLV, and cats with these chronic infections are subject to repeated bouts of infection.
In dogs, we see a variety of immune disorders where the patient's own body parts are attacked, such as joints, red blood cells, platelets, and skin.
Care for These Pets
Treatment of these diseases is varied, depending upon need and severity of symptoms. We use a range of therapies such as simple anti-inflammatory drugs, hormone therapies, or even powerful immunosuppressive drugs.
Whatever your pet's diagnosis, the professionals at Community Animal Hospital are experienced and knowledgeable about the most current therapies and medications for these challenging diseases. As always, our goal is to keep your animal comfortable and to enhance the relationship between pet and owner.
Contact our office for more information about treating a sick pet.
Read more about canine immune-mediated diseases.
Learn about autoimmune diseases in cats at this blog.