Comprehensive Pet Cancer Care From Community Animal Hospital in Morris Plains NJ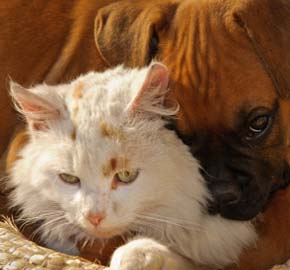 Cancer in companion animals is an emotional and challenging diagnosis for any pet owner. However, you may not realize that cancer is one of the most treatable of all the chronic pet diseases. While we don't currently have a specialist on staff, our veterinary team has experience with a wide-range of cancer care.
The professionals at Community Animal Hospital offer comprehensive cancer treatment. Whether we successfully eliminate the cancer or utilize treatments to manage it for the long term, you will find support, guidance, and an abundance of educational information, all designed to assist you in making the most appropriate decisions for your pet and your family.
Cancer Treatments for Pets
There are many forms of cancer and each is different. Your Community Animal Hospital veterinarian will determine treatment recommendations based on the type of cancer and the age, health, and lifestyle of the patient.
When caught early, your veterinarian is able to offer a variety of options to address the disease. Happily, pets generally respond quite well to these treatment modalities and a positive outcome is a realistic expectation.
While there is no single plan to address cancer in pets, there are three types of treatments that are typically discussed:
Surgery – Removal of the tumor and diseased tissue
Chemotherapy – Medications designed to kill cancer cells
Radiation – High doses of radiation are used to shrink or eliminate the tumor
We may use a combination of treatment modalities to address cancer in your pet. Therapies such as nutritional supplements are available to help your pet heal and to enhance comfort.
Ten Common Signs of Cancer in Small Animals
Abnormal swellings that persist or continue to grow
Sores that do not heal
Weight loss
Loss of appetite
Bleeding or discharge from any body opening
Offensive odor
Difficulty eating or swallowing
Hesitation to exercise or loss of stamina
Persistent lameness or stiffness
Difficulty breathing, urinating, or defecating
This list can be found at the American Veterinary Medical Association website.
When your pet is diagnosed with cancer, you are never alone at Community Animal Hospital. Here, your pet receives the ultimate in progressive pet care with a personal touch.
Contact our office for more information.
Pet Cancer Resources
Visit this pet health blog to read why people treat their pets for cancer.
Read this helpful article, Cancer, from the AAHA Healthy Pet website.
We also recommend the book, Pets Living with Cancer: A Pet Owner's Resource (AAHA Press, 2000), published by the professionals at the American Animal Hospital Association.