Some Essentials for Morris County Kitten Owners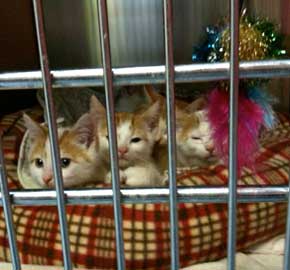 As soon as your kitten joins your household, schedule his or her first visit to Community Animal Hospital. Bring any available vaccination and medical or adoption records and a stool sample to this visit so our veterinarian can check for internal parasites.
You can expect a complete physical exam and possible blood to be drawn for lab work, such as feline leukemia and feline immunodeficiency testing. Don't forget to bring your list of questions—we are your partners in the care of this new pet, and we are here to help.
Kitten Vaccinations
Mother's milk offers kittens some protection from disease, but that only lasts a few weeks. As they are weaned from their mother, kittens are given vaccines to protect them from disease. The kitten series of vaccines gradually builds immunity during the first few months, usually beginning with the first medical exam at around 6 weeks.
Kitten series vaccines may include:
FVRCP (feline distemper) vaccine—Started at 6—8 weeks of age and boostered every 3—4 weeks until at least 12—14 weeks of age
Rabies vaccine given at 12—16 weeks
FeLV (feline leukemia) given at 8 and 12 weeks, if pet will be at risk
Visit our vaccinations page for more information on vaccines.
Feeding Your Kitten
Good quality kitten food is important, and many veterinarians recommend limiting dry food in favor of canned or moist cat food. Never give your kitten table food, as it can cause intestinal problems, and remember to keep fresh, clean water available at all times. Call our office for recommendations about feeding your new kitten.
Spaying & Neutering
We recommend spaying or neutering your kitten at around 6 months of age. An altered pet lives longer and generally has fewer medical problems and a better temperament if this is done at an early age. Visit our spay and neuter page for more about this topic.
Meet Sheila Bank, DVM
Dr. Sheila Bank graduated from Cornell University School of Veterinary Medicine in 1987 with a keen interest in feline medicine and used to raise Persian cats for show. She is a member of the Metropolitan New Jersey Veterinary Medical Association and the American Association of Feline Practitioners.