Meet the Veterinary Staff of Community Animal Hospital
Sarah Salvador
Sarah began working at Community Animal Hospital in 1999 during her senior year in high school as a kennel attendant. After high school, she pursued her career as a veterinary technician and attended County College of Morris for an associate's degree in biology while doing hands-on training at Community Animal Hospital. In 2006, she passed the veterinary technician national exam to become certified. She is now co-head technician and head surgical technician. In her spare time, she enjoys reading, gardening, and Friday nights at the movies.
Bonnie Hall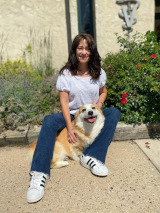 Bonnie has worked at Community Animal Hospital since 1986, starting as a kennel assistant, then as a veterinary assistant and receptionist, and now as a managerial assistant. She enjoys seeing pets with their people and, of course, helping them. She enjoys saltwater fishing with her husband, Marc, gardening and reading
Peggy Vassallo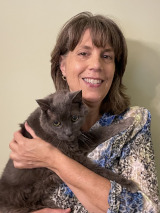 Peggy has been working as office manager at Community Animal Hospital for 23 years. She oversees the staff and ensures things run smoothly at such a busy practice. In her spare time, Peggy hikes, gardens, writes, and serves on the board of her local arts council.
Carrie Fulmer
Carrie attended the University of Vermont for her bachelor's degree in pre-veterinary medicine and English. She has worked at Community Animal Hospital for more than a year and has gained a lot of experience, as she plans to attend veterinary school in the future. When she is not working, Carrie likes to relax with friends and listen to music.
Valeria Sosa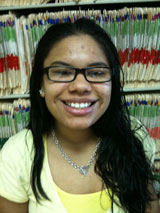 Valeria is currently attending school at Count College of Morris for photography and hopes to be an animal cop (animal control officer). Her hobbies include reading, spending time with her pets, and working out. She enjoys working at Community Animal Hospital because it allows her to help the animals she loves.
Denise Badamo
Denise started working at Community Animal Hospital in March 2011. She was employed by two other animal hospitals since 2006 and has experience as a technician and receptionist. Denise has always wanted to work with animals—it is her passion. She is a licensed cosmetologist and has three children: two girls, ages 19 and 16; and one boy, age 12.
Jessica Dobrzanski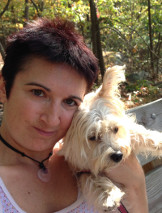 Jessica has been working as a veterinary technician on and off for ten years. Currently she multi-tasks as both a receptionist and a technician.
She enjoys kayaking, biking, running, and taking her dog Mindy hiking. Jessica also owns a ferret, a snake, and a lizard!
Brian Dyak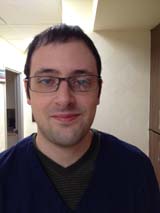 Brian worked in animal hospitals before, during, and after receiving his bachelor of fine arts degree from William Paterson University. He enjoys playing a role in the improvement of animals' health while working with the interesting people who also have chosen this field. Brian is attending the School of Visual Arts in NYC for a Master of Fine Arts degree.
Danielle Carpenter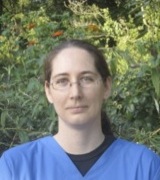 Danielle loves animals of all kinds. She previously worked at an animal shelter and is currently undertaking the medical side of animal care. She lives with her 5 year old Jack Russell Mix named Kira and enjoys taking her for walks and car rides. In her spare time, Danielle also likes to relax and play video games.
Lauren Cobane
Lauren has been a veterinary technician for eight years. She previously worked at Community Animal Hospital for almost five years before moving to NC, but is happy to be back! In her free time she enjoys country line dancing, crafting, and spending time with her dog and two cats.
Sean Fox
Sean has been working at Community Animal Hospital since 2007. In 2012 he left for the opportunity to work at a referral/emergency practice as an emergency and dermatology technician. He returned to our team in 2013. Sean has a dog, cat and a rat. He enjoys classic movies, spending time with his pets, especially hiking with his dog, Cairo.
Brielle Marinelli
Brielle started working at Community Animal Hospital in December of 2009. She graduated from the County College of Morris May of 2014 with an Associate's Degree in biology. She is now studying Veterinary Technology at Mercy College in New York in hopes of one day going to vet school. When she is not studying or working, she enjoys playing video games, reading, and relaxing with her three cats.
Jodi Rowe
Jodi graduated from Texas Tech University and has a degree in animal science. She started here in January of 2015 and has a special rapport with the animals. She plays piano, draws, and enjoys hiking with her three dogs Beanie, Bo, and Harlo, and hanging out with her cat, Patrick.
Herbie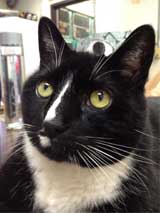 Herbie has been a staff member at Community Animal Hospital since the year 2000. He has donated blood to needy cats in the past, but now stays busy by keeping himself groomed and handsome for our hospital. He enjoys catching his toy mouse and drinking from the faucet—and toilet! He also keeps the animals staying here calm and stress free. Herbie's only complaint seems to be that there are never enough treats to snack on!